Customer chargebacks are one of the immediate ways fraudulent activity impacts businesses. When fraudulent purchases are made through a customer's account, companies have to process chargebacks and their associated costs.
Online merchants and banks that experience fraud can also have their fraud rate increase beyond 13bps, resulting in a loss of consumer trust. This increase harms customer retention and acquisition, making it difficult for businesses to survive. Fortunately, there are a range of new security methods to reduce the risk for customers, banks and merchants alike.
The introduction of PSD2 and two-step verification
The PSD2 directive — legislation passed by the EU to modernise the banking industry across Europe — has had significant implications for financial institutions and their customers. Namely, PSD2 has introduced new levels of security to protect customers when buying online from third-party suppliers.
PSD2 requires that online transactions above £150 should be checked by two-step verification, before being allowed to process. The same condition applies to every fifth transaction that a customer makes with a particular card. This keeps banks' fraud rates below 13 basis points (bps), reassuring customers that their bank is PSD2-compliant and secure.
Three possible components can make up two-step verification: something a consumer knows (a password), has (an OTP), or is (biometrics). The pressure of PSD2 and the simplicity of OTP implementation has led to OTPs becoming a standard in banking across the EU.
However, two-factor authentication is often challenging to implement. Not every consumer has access to a device that has secure biometrics, and other methods of checking for something a consumer has are inconvenient and costly.
This is why mobile security services, like the ones offered by JT, are so necessary. They allow banks to strengthen OTP security without having to use costly alternatives. JT's security services can integrate with existing OTP platforms, preventing fraudulent purchases and account takeovers.
JT Monitor - JT SIM Swap Service
To help banks and merchants cope with the challenges of mobile fraud, and the pressures of PSD2, we've developed the JT SIM Swap Service. This service provides banks with real-time insights and security measures that are proven to reduce cases of remote fraud.
Because JT is a Tier 1 operator, banks that partner with JT have access to a global database of phone numbers. This allows the JT SIM Swap Service to perform routine checks on MSISDNs — maintaining an OTP system, without compromising customer security.
JT's SIM Swap Service offers:
API FUNCTIONALITY
The JT SIM Swap Service comes with API functionality, making it easy to implement. This functionality includes:
Adding all customer phone numbers to one list for easy management
Live lookup of a particular phone number to determine if it has been swapped, and if so, when
Remove inactive and compromised phone number automatically, improving delivery rates
FEWER FALSE POSITIVES
JT's SIM Swap Service checks for SIM swaps at a frequency much higher than the market average, providing the most accurate subscriber data possible. Not only does this improve security, but it also reduces false positives. Fewer false positives mean fewer inconveniences for customers, improving overall security and customer satisfaction.
IMPROVED DECISION MAKING
Without operator insights into a SIM's history, it's difficult for banks to know when to prevent a customer from accessing sensitive information. With JT's database of SIM swap history and extensive partnerships with other telecom operators, you'll be able to make the most accurate decisions possible every time a customer interaction is flagged.
LOW COST OF ENTRY
The JT SIM Swap Service not only has low upfront financial costs but also low implementation costs. All of the logic, event sequencing, and API systems have been created for you. This means you'll only need to integrate the service with your existing technology, let your customers know of the change, and enjoy the benefits of the comprehensive system.
Defend against SIM swap fraud with JT's modern security solution
The rise of SIM swap fraud, vulnerabilities of OTPs, and pressures of PSD2 don't have to hold a financial institution or online merchant back. Sophisticated security systems like JT's SIM Swap Service can provide you with cutting edge solutions to your security needs.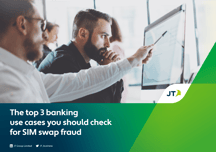 Stay ahead of fraudsters. Learn more about SIM swap fraud and how banks can protect their clients from it in our new eBook on the topic.