JT brings to market a managed service to protect against SIM swaps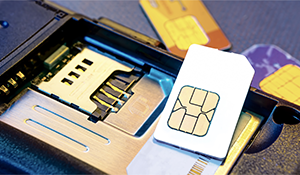 Introducing JT SIM Swap Service
We have developed a dedicated platform to mitigate the risks of SIM Swap - a comprehensive SIM monitoring solution that leverage the full market operator coverage to provide real-time information on whether a SIM has been swapped and when. This service allows you as a financial institution or service provider to effectively manage commitments to the secure customer authentication (SCA) part of PSD2 and secure your customers' SMS interactions.
The JT Monitor – SIM swap service provides you with the following
Easy to integrate API based connectivity
Ability to manage all clients MSISDNs in one place
Proprietary logic and systems to manage operator data
Scheduled checks on MSISDNS every 7 days
Real-time lookups on subscriber SIM history
Privacy by design approach to manage regulatory changes with a focus on PSD2
Preventing SIM swap fraud with JT
To help prevent SIM Swap Fraud we have created a market-leading, fully managed SIM monitoring service, with enhanced data functionality and sophisticated connectivity, infrastructure and analytics in one solution.
The service is designed specifically to businesses to overcome account takeover and mobile fraud, improving onboarding and customer experience in the contact centre, and be PSD2 compliant with a focus on the SCA or Secure Customer Authentication regulatory requirement before one time passwords are sent to the intended recipient.
What is a SIM swap?
SIM swapping is the process of moving a phone number from one SIM card to another. It is made easy for individuals to upgrade to a new SIM card, or to replace a damaged one, while still keeping the same phone number.
When performed for the intended purpose, SIM swaps are a normal part of owning a mobile phone. Unfortunately, however, criminal hackers can take advantage of SIM swaps through a crime known as 'SIM swap fraud'.
SIM swap fraud is when a person's phone number is moved onto a hacker's SIM card without the victim's knowledge, directing all SMS messages and phone calls to the hacker.
As a result, this gives the unauthorised party access to password reset links, one-time passwords (OTPs), and other sensitive data that a hacker can use to infiltrate a person's private accounts.

How does JT SIM Swap Service work?
Our SIM Swap Service acts as a central, singular point to monitor all of your subscribers' phone numbers.
All use cases for how the data will be used, are pre – approved by operators as the solution provides cross market coverage.
The platform is designed for integration within current workflow tools, so once clients numbers (MSISDNS) are registered on the service, the process of building their SIM swap history begins.
Every seven days, the platform checks each phone number for a recent SIM swap across all operators. Once a number is registered, the history of the number and SIM pairings is created. The service then returns data on whether or not a SIM swap has happened, and specific history elements of when those pairings have been made. This information provides you with the power to verify the customer before continuing to send them sensitive data through SMS.
Each SIM swap and SIM swap check will be timestamped using information from available operators. And in cases where timestamp information isn't available, we'll provide you with a date range between SIM swap checks, giving you an insight into when a SIM swap may have occurred, reducing 'false positives' due to frequent checks.
The frequent checks, in turn, provide you with a high level of insight into your SMS operations and, more importantly, your customers' security; reducing exposure to risk and adding a layer of protection for your consumers.
What are the benefits?
Three API Functions for enhanced control and security
Our SIM swap service comes with three core API functions:
Add subscriber MSISDNs (phone numbers)

Live lookup request to determine is a SIM has been swapped, providing history events, date of the last swap and whether a swap has happened

Remove phone numbers that are inactive or compromised
These three functions combine to give you significantly higher control over your customers' security – and reducing their exposure to risks.
Always keep accurate subscriber data up to date
Thanks to our frequent SIM swap checks and in-depth data from our operator partners, you'll always have access to accurate and up to date subscriber data. This reduces the likelihood of false positives that may create stumbling blocks for your customers.
Reduce false positives with frequent phone number checks
Our JT SIM Swap Service checks every MSISDN (phone numbers) in your database every seven days for potential cases of fraud. This frequency is much higher than the market average, which generally only check every few months. The higher than market average frequency enables you to achieve better fraud detection.
Improved decision making based on richer history from timestamps
Through our JT partner network, with other telecom operators give us access to essential data like timestamps – the exact date and time a SIM and MSISDN were last paired. It means you'll not only know if a SIM swap has occurred but also when did it occur and when did our system detect it. By returning the rich history, clients can then determine how likely it is to be fraudulent.
Full visibility of subscribers SIM Swap activities through date history
We keep a record of all MSISDN history in our database. In this way, you can easily view subscribers' SIM swap history through the platform, from the moment it was added to the service to the present-day.
Our sophisticated and comprehensive infrastructure makes choosing our SIM swap service a seamless experience. There's no need for you to create additional logic of how porting events are managed across operators, or worry about complex baselining requirements, as all of that will be handled directly by the platform.
Conclusion
SIM swap fraud may be on the rise, but there are solutions available to financial institutions and service providers to help prevent it.
And if you're looking for a complete, reliable and fully managed solution, consider choosing our SIM Swap Service to reduce the risk of fraud for you and your customers today.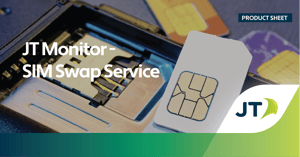 To learn more about the offering, please download JT SIM Swap Service product sheet
If you have any questions, please do not hesitate to contact us, our experienced Fraud Protection Services team will be ready to assist you.