A2P messaging in business is on the rise, though often, companies don't know how to leverage messaging their benefit. Throughout this article, we'll explore some of the most effective ways to use A2P, as well as how to give your SMS campaigns a successful head-start.
What is A2P Messaging?
Application-to-person messaging (A2P) makes staying connected with your customers easier than ever before. A2P software sends mass SMS to your subscribers automatically, which can be used for account alerts, service notifications, added layers of security and more.
While email has traditionally been the go-to solution for businesses reaching out to their customers, the efficacy of email has steadily declined. Meanwhile, SMS has risen in popularity substantially. SMS messages have an open rate of 98%, while emails are only opened 20% of the time. This means businesses that use SMS over email will see a much greater ROI.
8 Most common use cases for A2P messaging
If you're looking for ways to use A2P messaging to improve customer service, increase your business efficiency and deliver greater ROI, here are 8 ways to do it: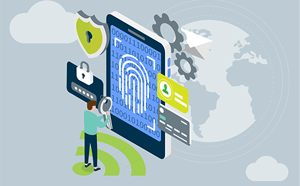 1. Two-factor authentication
Two-factor authentication (2FA) sends a one-time password to a person's mobile phone when they try logging into one of their accounts. This helps prevent hackers from breaking into your customers' accounts.
2. Appointment reminders
Sending your customers reminders about their appointments helps reduce wasted bookings and makes it easier for them to reschedule at a better time, if needed.
3. Billing updates
Instead of leaving your customers feeling surprised about changes to their billing, A2P messaging allows you to send direct notifications of any upcoming dues and changes. This, as a result, creates a smoother billing experience for both you and your customers.
4. Tickets purchased confirmation
Online shopping, especially when it's for digital items like tickets, benefit greatly when confirmed via SMS. This lets the customer know that their purchase was successful and can even provide them with important information, such as event times, dates, and ticket numbers.
5. Business reservation reminders
For businesses that offer reservations, like hotels and restaurants, sending out a reservation reminder a few hours before a reservation takes place will help people arrive on time or cancel if their plans have changed.
6. Shipping notifications
No longer are the days of wondering when, or if, a package is going to arrive. A2P messaging allows you to keep your customers in the loop on when their packages will be delivered.
7. Service installation updates
You can keep customers informed about service installation updates, too, by using A2P messaging. This prevents surprises and helps your customers feel more connected to your service.
8. Unusual activity alerts
With security threats on the rise, customers want to know the details of their data, privacy settings and levels of security. With A2P messaging, you can send alerts to individuals about any unusual activity automatically. This helps keep the customer safe and, in turn, fosters trust in your service.
Send your business's A2P SMS through JT – a trusted, industry leader
Whichever way you want to use SMS in your business, JT has the network, technology and data coverage to support you:
JT Network
JT Network is one of the most capable, complete global networks in Europe. With over 600+ direct operator agreements, you'll be able to send messages to all your customers, no matter where they are located.
Our extensive network also offers us unique insights into the telecom industry, which allows us to provide the fastest, most secure routes for your messages possible. This means your messages always arrive promptly and properly.

JT Reach
JT Reach is the hub for all your A2P needs. You can deliver your messages through the platform directly using SMPP technology, or work with our dedicated support team to send your messages as a managed service.
The JT Reach platform makes monitoring your SMS campaign simple. You'll have access to analytics and insights about how effective your SMS messages really are. We provide APN and VPN options, too, which will help you to better engage with your customers.

JT Navigate
With JT Navigate, you can leverage our comprehensive operator data to optimise your SMS campaign. You'll also have access to our MNP database, which provides features like number validation and route optimisation, too.
These features help cut costs by reducing the number of messages being sent to expired phone numbers and stops them from getting lost along grey routes. You'll have the peace of mind that what you invest in A2P is really paying off.

Fast-track your path to A2P success
Application-to-person messaging is one of the most effective ways to reach your customers, no matter what kind of service you offer. With JT's lineup of A2P products and platforms, your A2P campaign will be backed by one of the most trusted, long-standing names in cellular connectivity.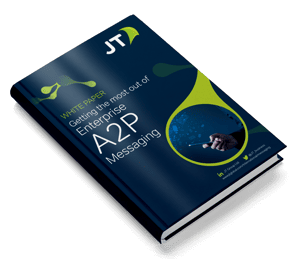 To learn more about A2P Messaging,
Download our white paper: Getting the most out of Enterprise A2P Messaging.