A2P (Application-to-Person) SMS is a low-cost way to reach consumers with an extremely high ROI. Its flexibility makes it a great investment for businesses of all sizes. SMS messages have one of the highest engagement rates with consumers by a large margin, and A2P SMS allows you to capitalise on this advantage.
A2P messaging can be used to provide your customers with a variety of services. One of the most popular is two-factor authentication (also known as 2FA) which helps keep accounts and sensitive information secure. A2P SMS can also provide services like account notifications, exclusive deals, and extra layers of interactivity for your service.
While A2P SMS is a great way to give your business an added edge, it can be a daunting service to implement for a few reasons.
The challenges of A2P SMS Messaging
Chief among A2P SMS challenges is logistics. How do you begin implementing A2P SMS? Do you need to develop an app, or hire an A2P messaging team? How much do you need to invest up front, and how long before you start to see returns?
Not only that, but there regulations, laws, and limitations affect what you can and can't send via a SMS, and these restrictions vary from one country to the next - sometimes even from one city to the next.
Another challenge facing A2P messaging is security. Since you're likely to be sending sensitive information over SMS through your A2P platform (like verification codes and personal account information) you need to have a plan in place for keeping this data protected.
The three pillars of successful A2P SMS
To make sure you get the most out of A2P messaging campaign, here are some of the fundamentals of what makes an A2P SMS service a success:
Successful SMS delivery

Perhaps the most obvious, but not to be underestimated, factor is the successful delivery of messages. If even a small percentage of your messages don't reach their destination, that's a significant portion of your investment wasted. Not to mention that you could leave your customers in the dark when it comes to critical features of your service.

Secure SMS routes

Another key component of successful A2P SMS is having secure routes. A problem that's all too common in A2P messaging is the use of grey routes, which is a borderline illegal practice that circumvents regulations and fees. In the process of doing so, there is a vast reduction in features like reliability, message quality, and engagement stats.

Reduced operational costs

And lastly, as you might imagine, sending hundreds - possibly tens of thousands - of A2P SMS on a day-by-day basis can rack up expenses very quickly. Therefore, to make sure that your A2P messaging system is sustainable, you'll need to establish specific and beneficial contracts with the various providers in your locale.
How JT can take your A2P SMS campaign to the next level
If that sounds like a lot, don't worry. Trusted connectivity providers like JT have been working to meet global A2P SMS market needs so you don't have to navigate this process alone.
Here's what JT has to offer:
One of the first obstacles that those getting into A2P messaging encounter is agreements between networks. The only way to avoid network agreements would be to have cell towers that covered every meter of the planet. While that would be convenient, no such thing exists.
So instead, for your messages to get from Point A to B, you're going to need to form partnerships with any and all providers that will be helping your messages reach their destination.
Luckily, JT has already done this. With more than a century of experience in the telecom industry, we've established over 300 direct agreements so that your message will always reach its destination as quickly and securely as possible.
SS7/SMPP Carrier Grade Messaging
JT uses both SS7 and SMPP services. Each of these is at the cutting edge of A2P SMS, ensuring that you get the most value for money.
SS7 runs on TDM circuits, which allow you to send all sorts of message types. It also provides you with helpful features like automatic caller ID, conversion of telephone numbers, automatic redirect, and the ability to block subscriber numbers.
Our JT Reach platform, on the other hand, uses SMPP to provide a message delivery system for enterprise A2P platforms that don't have access to traditional cellular infrastructure. JT Reach has open APIs and VPN support, so you'll be able to integrate it with your existing A2P SMS services easily and securely. It's built for large scale A2P campaigns as well, allowing it to meet your needs no matter the current, or future, size of your business.
Conclusion
It can be tempting to try and tackle A2P SMS on your own. However, it's not as simple as it might seem at first. Fortunately, providers like JT are on hand to provide your business with reliable, secure, and affordable enterprise A2P messaging solutions.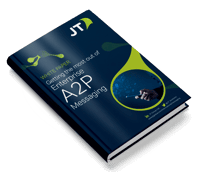 To help you understand A2P SMS better, the team compiled a white paper on the topic. Download to learn more about why A2P is on the rise; what roles IoT and 2FA play in this; what are the benefits and challenges of A2P SMS and more.