A2P — short for Application-To-Person messaging — refers to any software that can be programmed to send text messages to individual people.
It's commonly used by businesses to send notifications, account updates, and security measures such as one-time passwords. A2P has the immense benefit of being ubiquitous and highly engaging, SMS having a much higher open rate than email.
As such, many businesses are building an A2P strategy for this year, into 2021 and beyond. In this post, we'll discuss five key predictions for the A2P messaging forecast from 2020 to 2022.
5 global trends for the 2020 A2P messaging forecast
1. Asia is a key market for A2P SMS traffic
According to a new study by Juniper Research, A2P business messages are set to reach a staggering 3.5 trillion by 2023. This figure represents a 40% growth in 2019 figures, which totalled 2.5 trillion in 2019.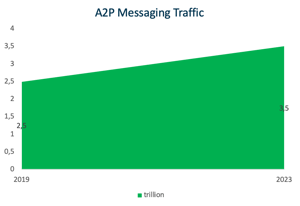 The vast majority of those 3.5 trillion messages are expected to be sent throughout Asia, which makes up the largest portion of the A2P market today by a wide margin. The next largest A2P markets are Western Europe, Latin America, and North America.
SMS aggregators and mobile operators looking to facilitate A2P messages can invest in these markets, Asia in particular, to secure future growth.
2. Direct to operator routes will increase
White routes send SMS messages along the proper channels, while grey routes avert the proper channels in order to minimise fees and avoid regulations.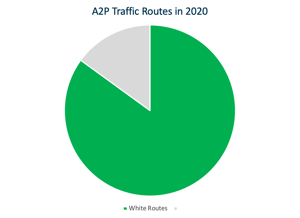 In 2022, Mobilesquared predicts that 85% of total A2P traffic will be through white routes. In more specific numbers, that's 2.38 trillion A2P messages being sent over white routes, up from 875.11 billion in 2017.
This is good news for the telecom and A2P industries, as grey routes tend to damage profit margins by evading fees and undermining operator agreements. Additionally, grey route traffic threatens the security and reliability of A2P, eroding consumer trust.
3. A healthy global A2P SMS revenue prediction, with white route traffic delivering significant commercial value
The global revenue of A2P SMS messaging is expected to more than double, reaching $​26.61 billion by 2022 — an annual growth rate of 17.5% over the five-year period.
Once again, the regions expected to have the biggest share of the market are Asia, Western Europe, Latin America, and North America, with Asia representing the largest portion of the market. Whereas other regions, including the Middle East, Eastern Europe and Oceania, are expected to have the smallest share.
A leading factor in the growth of A2P messaging is the increase in one-time passwords, also known as verification or authentication tokens. These short, alphanumeric codes enable consumers to conveniently access their accounts in a way that's more secure than using a password on its own.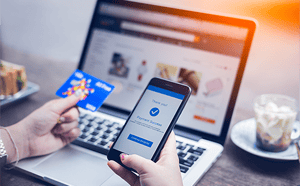 One-time passwords, or OTPs, are growing in popularity out of necessity (increasing cybersecurity threats) and regulatory requirements (legislation like PSD2 is mandating two-factor authentication). The challenge in meeting these needs lies in being able to improve consumer security without inconveniencing those same consumers. This challenge is why the switch to white routing is expected to become so important (and profitable) in the near future. Direct routes are faster and less prone to errors, making security measures like OTPs as convenient, secure, and reliable as possible.
4. It's no longer mobile operator versus SMS aggregator revenue — the two will work in mutually beneficial ways
Mobile operators (traditional telecoms) represented a vast majority (75.4%) of the total A2P revenue in 2017. The remaining revenue came from SMS aggregators — that is, providers who facilitate A2P messages for businesses through traditional mobile operators.
Although SMS aggregators will see their revenue grow from $​2.92 billion to $​4.35 billion, the percentage of the market they control will actually shrink over this period. Mobile operators, on the other hand, will see their piece of the market grow to 83.7% in 2022.
To avoid being left out of the quickly growing market, aggregators can start forming partnerships with mobile operators now that are mutually beneficial. By making these agreements today, aggregators can enjoy a greater percentage of the growing A2P market.
5. White route traffic will continue to lead the way in revenue generation — representing 85% of revenue by 2022
For 2022, Mobilesquared is predicting a total potential revenue of $30.54 billion, based on the probability that white routes will play a significant role in expanding the A2P market, forcing aggregators to consolidate during this period.
Specifically, Mobilesquared's data suggests the portion of A2P revenue generated by white routes will rise steadily between 2020 (81%) and 2022 (85%). This prediction gives aggregators more motivation to make the switch to white routes now, otherwise they risk being left behind as the market quickly shifts.
The future of A2P
These A2P messaging forecast predictions show that Application-To-Person messaging is a promising, and evolving, industry within the telecom sector. Popular with businesses and consumers alike, 2020 is likely to bring some compelling developments, including the growth of competing channels like SMS, OTT, and RCS.
JT is proud use for white routes, as well as the growth of A2P through our JT Reach service. JT Reach is our SMPP messaging platform that makes managing high-volume A2P projects simple, efficient, and cost-effective. JT Reach is backed by our Tier 1 network, providing companies and their customers with the best A2P solution available.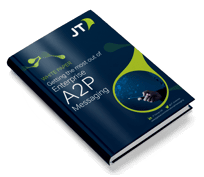 To learn more about A2P messaging, download the JT A2P Messaging white paper. Or talk to us today to find out how JT can help you message your clients in a faster and more cost-efficient way.