Scale reliable SMS delivery globally at speed with JT Reach

A successful SMS campaign can be an amazing benefit to your business. However, achieving a successful one is easier said than done.
Are you maximising the potential of your SMS campaigns?
In the first instance, there is the infrastructure required to get an SMS campaign off the ground. A2P technology can be difficult to create, especially for businesses that have never worked with the software before.
And then there's the challenge of laws and regulations, both locally and internationally.
Every region has its own set of rules and regulations regarding the use of mass SMS… rules that differ greatly to the casual SMS messages people send daily. And complying with these laws is difficult from the start, and only become more difficult as your campaign grows.
Finally, there's security to consider.
The success and ubiquity of SMS is, in part, due to its simplicity. That same simplicity however can make SMS very vulnerable to attacks of fraud. This is especially true for businesses sending sensitive account information or one-time passwords over SMS.
So, in order to run a successful SMS campaign, there are a number of key factors to consider first:
Running a successful SMS campaign
Fast Delivery
For an SMS campaign to be successful, fast delivery is a must.
Delayed SMS messages can lead to unhappy, misinformed, and confused customers; especially when messages contain information like one-time passcodes and account updates.
It's also important for a campaign's delivery rate to be high, as consistently low delivery rates can result in unnecessary overheads.
Secure Routing
Secure routing is another key component of successful SMS campaigns.
Because SMS is being used to send sensitive information more frequently, it's becoming increasingly common for hackers and fraudsters to try and intercept consumer SMS messages.
To prevent this from happening, it's important that your messages are sent using the most secure routes possible.
Low costs
Finally, keeping costs as low as possible is essential.
While SMS campaigns doprovide your service with new opportunities and incentives for prospective customers, they can also become costly very fast. And this is especially true for fast-growing campaigns.
To ensure sustainability, always strive for low cost, streamlined campaign solutions.
The JT Reach messaging hub for SMS campaigns
For a successful, sustainable, and simple SMS campaign, consider switching to the JT Reach Messaging Hub.
Put simply, the JT Reach Messaging Hub is a platform designed to make sending A2P messages at scale both easy and direct. Businesses can send, monitor, and receive data on their campaigns all via the hub, giving you a high-level view into your campaign's success.
And what's more, JT Reach is backed by over 120 years of experience in the telecom industry. This means you'll have access to our global network and industry expertise. And you won't have to worry about regional regulations or finding the most secure routes, as we've already spent hundreds of years doing that for you.
With JT Reach, you'll also have access to our valuable operator insight and dedicated account support team. Your messages will be sent over the latest in SMPP, providing you with a high value, scalable solution.
Why JT Reach?
Global coverage
One of the first stumbling blocks that SMS campaigns run into is global reach.
Sending messages outside of a local region becomes complicated quickly. Fortunately, with JT Reach, this is no longer an issue.
We have over 600+ agreements with telecom operators around the world. So, no matter where you're sending your messages from, or where you're sending them to, they'll arrive easily and promptly.

Speed and deliverability
Many SMS campaigns find themselves in the dark, never knowing if, or indeed when, the messages they send will reach their destination. With JT Reach however, you'll have access to this information and much more.
JT Reach automatically chooses the most optimal routes for your messages possible, ensuring that they arrive both instantly and securely.
We also provide number validation, too, which will help to reduce overhead from messages being sent to invalid numbers.
24/7 support
We realise that the telecom industry can be difficult to navigate for businesses of all sizes.
That's why we, at JT, believe that every business should be able to benefit from the power of SMS, withouthaving to become a telecom expert.
Behind every JT Reach user is a dedicated account support team for any and all issues you encounter, 24/7. We're also available to answer any questions you have about your campaign, and would love to share our insights with you!
Powerful API'S and SMPP
For businesses that are already using services for managing their SMS campaigns, we also offer powerful APIs with JT Reach. These APIs make integrating your services with one another simple and painless.
Additionally, we provide you with the latest in SMS technology, too, which includes SMPP protocols and VPN support for privacy. It's an all in one package for each of your SMS needs.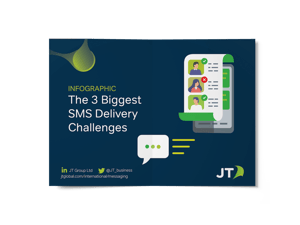 If you are interested in learning more about JT Reach, talk to one of our Messaging experts.
Launching an SMS campaign is one of the best decisions you can make for your business. However, is your SMS campaign performing?
Download our Top 3 SMS delivery challenges infographic to find out why your campaigns are underperforming and how JT Navigate can help you avoid the pitfalls and fast track your way to success.