Using SMS in a changing world to grow and develop secure banking services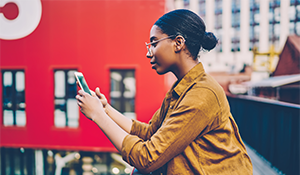 COVID-19 has reshaped the world in many ways, including our purchasing habits. With many transactions moving online, banks and payment providers have faced a growing need to provide secure and reliable remote options for their customers. For many the solution lies within SMS for banking.
The SMS of 2020
65% of Earth's population can send and receive SMS and the number is growing. In fact, 90% of all SMS are opened within the first few minutes. People are not only heavily reliant on their phones for texting on a daily basis, but also on receiving business communication – from promotions and order confirmations, to appointment reminders, alerts and, yes, transaction verifications, balance and account information from their banks.
SMS banking – from authentication to customer engagement
The reality is that SMS have never been more relevant than in 2020 because of the current trends. Not only were banks forced to speed up their digital communication strategies due to COVID and the growth need for mobile banking, fueled by faster adoption within younger generations, but many were also faced with the need to secure their payments under the EU PSD2 directive for open banking via 2FA.
SMS can provide significant benefit by solving many of the current market needs because:
SMS is ubiquitous, works across all devices and can reach a wider audience without the need to install or support an application, or to have smart phone.
SMS does not rely on internet connection and are delivered through the telecommunication network therefore not using customers data allowances.
Where using a trusted partner, then the SMS will transmit through secure 'white' routes, which ensures banks can send timely sensitive information with higher delivery rate accuracy.
From sending 2FA passwords, to texting for balance check and account history, banks can use SMS to get the message across whenever and wherever needed.
Creating an effective in-house SMS strategy
Partnering with an experienced operator for critical banking interaction with consumers will ensure effective delivery of services for consumers and drive operational gains.:
Easy API implementation into existing workflow tools
Clear pricing and delivery reports
Secure routes through direct operator connectivity
Reduced latency
Transparent billing and control over the costs
Not all platforms on the market can offer all 5 benefits. In fact, a large number of the market solutions do not cover the basic need for a secure SMS via the telecom network, providing high conversion rates, reduced latency, and greater control over the routing to ensure critical traffic reaches its intended recipient.
At JT we understand these needs. Headquartered in the Channel Islands – a leading global financial center, we partner with some of the largest payment providers for their secure banking. We have improved our services based on the need of global banks and have created an award-winning messaging platform that can answer the needs for a secure SMS banking. Our services cover not only the core five benefits of SMS banking, but as a telecom with our own infrastructure, we offer our banking partners one important added benefit – delivery information, which can be provided only by telecoms.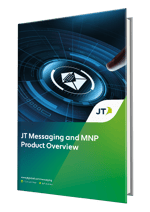 To learn more about JT's Global Mobile Number Portability platform, download our Messaging and MNP product overview.
Or talk to us today to find out how JT can help you message your clients in a faster and more cost-efficient way.