Businesses are sending more SMS messages to their customers than ever before. As SMS becomes a primary means of B2C communication, it is essential that these messages reach their desired destination securely.
Mobile Number Portability (MNP) lookups provide businesses with the resources they need to not only ensure that SMS messages get through to the right customer, but that B2C communication is as efficient as possible.
In this guide, we'll walk you through what MNP lookup is and why it's so important for businesses.
What is Mobile Number Portability lookup?
Mobile Number Portability, or MNP, allows individuals to change mobile networks without having to change their phone number. Of course, this streamlines the switching experience for customers but, at the same time, it also makes it harder for businesses to keep track of customers' phone numbers as they move from one network to the next.
To combat this challenge, businesses started using MNP databases. Now, every time a phone number is ported to another service provider, that phone number's status is updated in the MNP database. This informs other networks as to where a phone number is being used.
MNP lookup is a service that checks this database to determine the status of a specific phone number. It can provide you with information such as the mobile network a number is currently associated with, whether that number is active, and what country the number is being used in.
Why is it important for businesses to have an up-to-date database for MNP lookup?
Telcos and businesses alike can use MNP information in several ways. A simple use case is A2P messaging, wherein businesses push out thousands of SMS messages automatically via software. By checking the MNP database before sending out aggregate messages, businesses can avoid sending messages to inactive numbers, making A2P campaigns a more cost-effective practice.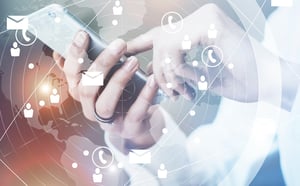 MNP also prevents businesses from sending sensitive information to a phone number that no longer belongs to its previous owner, like one-time passwords and other means of account validation.
In an age of PSD2, A2P, and sophisticated mobile fraud, having access to an up-to-date MNP database is crucial for businesses. MNP lookup gives companies a high level of certainty that the messages they're sending out are arriving to the right recipient.
What are the benefits of MNP lookup?
One of the key benefits of MNP lookup is that it reduces the risks and errors commonly associated with message delivery.
Beyond that, though, MNP can help businesses find the most direct routes for SMS messages. Not only does MNP tell businesses if a number is active, but also which mobile provider it's active with and in which country. Using this information allows routing software to find the best route possible to this number, delivering messages as quickly, securely, and cost-effectively as possible.
JT Navigate: an award-winning MNP lookup service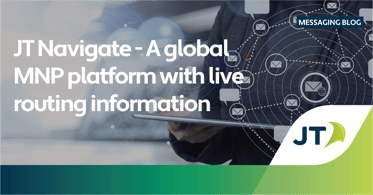 By combining our global partnerships with both mobile operators and Mobile Number Portability providers, JT can offer a unique proposition in the world of MNP lookups. JT Navigate is a service that pulls in all the MNP information you need, as you need it, in the most secure and simplified way possible.
This provides mobile operators and platforms in need of MNP information with a safe way to access MNP databases. It also reduces the risk of SMS hijacking, allowing you to meet the needs of your clients with confidence.
Because JT Navigate is an API-based solution, the only information you or your clients ever see is the information you're directly accessing. JT Navigate provides you with the Mobile Country Code and the Mobile Network Code for a particular phone number, giving you the data you need while protecting the rest.
JT Navigate offers businesses:
SIMPLICITY
JT Navigate is a single contract that provides you with global MNP data through a single API gateway.
COST EFFICIENCIES
By determining if a number is active or not, businesses can avoid sending SMS messages to inactive numbers. For numbers that are active, businesses can determine the most efficient route possible for that message. These two factors work in tandem to improve the cost efficiency of your SMS messaging.
REAL-TIME DATA
JT Navigate allows businesses to instantly check the status, location, and network of a number, increasing the accuracy of your messaging system without slowing it down.
RESULTS
JT Navigate users experience higher conversion rates and greater delivery accuracy, all while maintaining fast delivery rates for time-sensitive messages.
SUPPORT
JT Navigate is backed by our team of customer service experts. This includes a fully dedicated routing and messaging services team.
SERVICE RESILIENCE AND SECURITY
Our Logical Routing Engine, or LRE, was built and designed by us. That means we have full control over the system, providing you with the best service we're capable of delivering.
Add MNP lookup to your workflow today
MNP is a powerful, cost-effective solution for any business that needs to send or facilitate the routing of SMS messages. If you're looking for an MNP lookup service to improve your delivery rates, conversion figures and SMS security, reach out today to learn more about the JT Navigate service.
If you are interested in learning more of JT Navigate, download our product sheet and contact us for more details.