Insights from GSMA's MWC Las Vegas 2022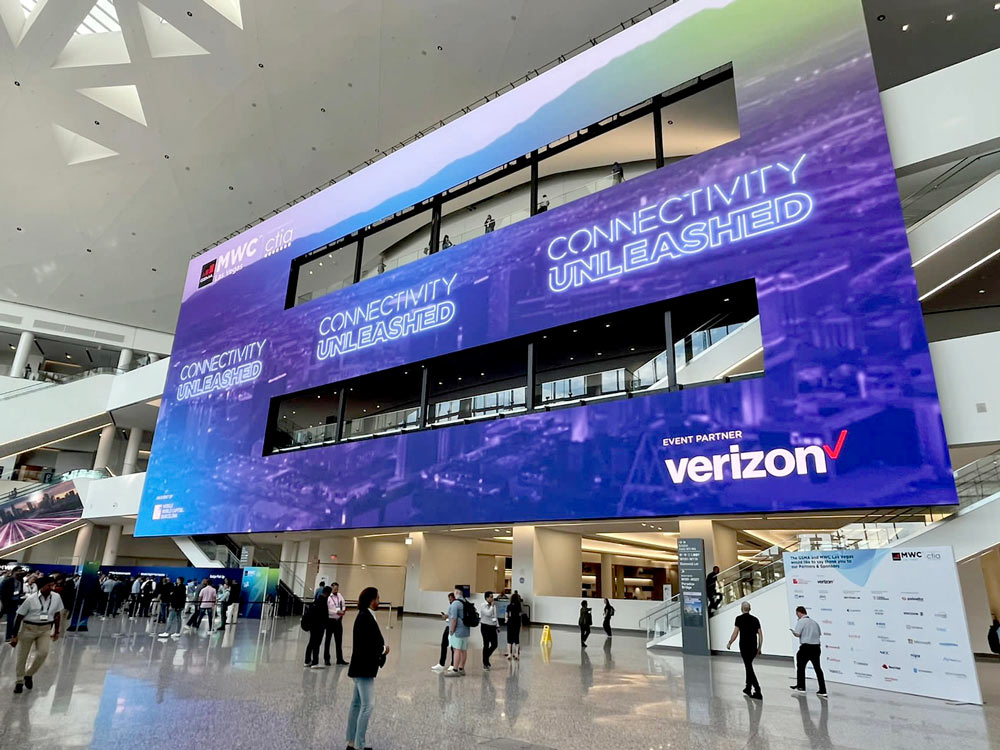 At the end of September, our Global Commercial Head of Fraud Protection Services, Clare Messenger, and our Product Manager of Fraud Protection and Messaging Services, Henry Howe, attended
GSMA's Mobile World Conference (MWC) Las Vegas 2022
.
GSMA's second MWC of the year (after a successful event in Barcelona in March) was three days packed full of the very latest innovations and technologies in the industry. With keynote speakers and demos from industry giants like AT&T and Verizon, as well as more disruptive players like FaZe Clan, there was plenty for us to sink our teeth into.

We've pulled together some of our key takeaways and insights from the event to share with you.
MWC 2022: The hottest topics of conversation


📈
The rise of digital data breaches - what's the solution?
Over the last few years, the digital market has experienced rapid growth, in a large part due to business and industry advancing digitalisation efforts in the face of the Covid-19 pandemic. With consumers and businesses severely restricted, online transactions and engagements accelerated as society took to the internet as never before. But while key industries like ecommerce experienced accelerated growth with up to 20% increase in online transactions, the rate of cybercrime unfortunately skyrocketed by 40%.
At JT, we're working with global mobile operators and partners to offer intelligent data solutions that protect them and their customers.
🔑 When is a password being not enough?
With 57% of people targeted by phishing attacks not changing their passwords and the password "123456" still being used by over 23 million account holders, passwords are no longer enough to keep your customers safe.
A message we heard repeated at this year's MWC was how operators must start employing more sophisticated solutions to ensure customer data security.

With JT's fraud protection services, including Two-Factor Authentication that reduces the risks associated with compromised passwords, mobile data signals are leveraged to provide additional ways to verify the identity of users. This helps to indicate, flag and block fraudulent activity that arises from compromised accounts and common scams such as sim swap, account takeover and call forwarding fraud to name a few.
📵 Increases in fraudulent calls are changing consumer behaviour
Bogus calls are on the increase, and it's now estimated that 80% of all calls go straight to voicemail as fewer consumers answer unfamiliar or private numbers, preferring instead to screen them.

However, criminals are becoming much more sophisticated in their approaches, with many now spoofing the numbers of legitimate businesses to falsify their caller ID. This leads to consumers picking up calls from what they think are trustworthy sources, only to find themselves on the phone with a scammer without realising it.

What was great to see was the many exciting developments currently underway in caller ID authentication, leading to new solutions for operators and consumers to help combat number spoofing. By continuing to innovate in this space, businesses can restore customer trust and, more importantly, keep them and their precious data safe.
👁️ Biometrics
The development of biometric services will play a big part in the fight against online fraud. There are clear advantages of biometric techniques, particularly when used in combination with multiple factors, such as one-time-passcodes, PIN's and security questions. It is also inherently difficult to hack and replicate by bad actors. However, while offering greater opportunity to help combat fraud the use of biometrics is not without its challenges, technical, legal and ethical.
🥽 The Metaverse is coming
All of the above becomes more important to consider as we embrace the Metaverse over the coming years.
This new 'virtual' reality, while on the fringes in previous years is now being driven by the rapid adoption of 5G. The Metaverse enables people to interact in virtual environments through their own digital versions of themselves, avatars. With it comes new economies and opportunity from where businesses will increasingly promote their brands and sell their goods and services. Brands including some of the world's leading fashion houses already sell merchandise through Avatar marketplaces from within Metaverse gaming environments.
While this exciting new world provides significant opportunity for businesses and consumers, it also creates new opportunities for cybercriminals. Going forward, it will be critical that companies have robust and effective identity authentication mechanisms, and fraud prevention solutions in place as consumers increasingly interact from within the Metaverse.
It was a fantastic and eye-opening couple of days meeting partners, discovering new business opportunities face-to-face and hearing from some fascinating keynote speakers. Thank you to GSMA for putting on such an innovative event. We look forward to attending future MWC events.

You can learn more about JT's Fraud Protection Service by downloading the JT Fraud Protection Services Overview today.