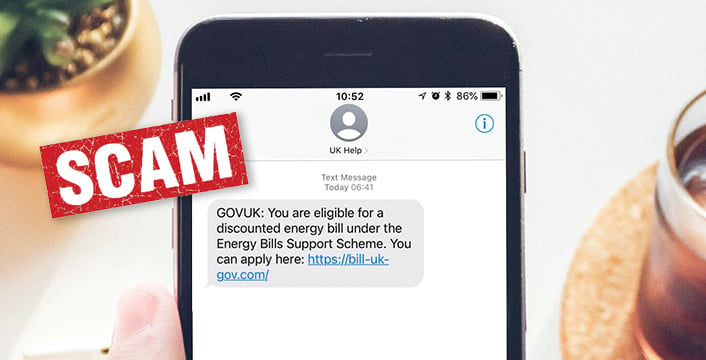 As UK consumers face continued pressure on household budgets with inflation and spiralling energy costs there have been renewed warnings about the risk from fraudsters targeting the cost-of-living crisis.

A number of organisations and experts have issued warnings over recent months about the surge in fraud as criminals target consumers more susceptible than ever to scams as they feel the pressure of rising costs.
Fraudsters use fake SMS messages to target victims
In September, Money Saving Expert's Martin Lewis highlighted the growing number of fake texts posing as the government to lure consumers into giving up personal information via fake websites, inviting them to apply for the £400 energy bill support scheme. Action Fraud has illustrated how scammers are exploiting the stress of soaring energy prices, reporting the number of scams that name at least one of the "big six" energy firms were up 10% in the first three months of 2022 alone.
Losses from Authorised Push Payment fraud
The trade association for the UK's banking and financial services sector, UK Finance, is also warning the public to be vigilant against fraudsters and scammers, with recent figures from them highlighting the scale of the problem, showing that over £609 million has been lost due to criminal activity so far this year.

Authorised Push Payment (APP) fraud where a victim is tricked into transferring money to a fraudster posing as a genuine payee has seen a monumental increase and has become a focus of the House of Lords Digital Fraud Committee.
Fraudsters adapting methods to reflect societal concerns
The pandemic saw a marked shift in the tactics and sophistication of online fraudsters who quickly adapted their methods to take full advantage of the rise in online activity as consumers and businesses were forced to go online in the face of lockdown restrictions. Now these methods and more, are being used to further exploit consumers facing the cost-of-living crisis. The Office for National Statistics (ONS) have reported that anti-fraud teams continue to identify new phishing attacks - where perpetrators attempt to trick users into clicking links to bogus websites and malware, many of which are targeting vulnerable people in difficult financial situations.

This year Citizens Advice have reported a 14% year-on-year increase in fraud with 75% of UK adults revealing that they have been targeted by a scam. Anyone can be targeted by fraudsters and as purse strings are tightened and pressure on finances increase its becoming more important for consumers to be wary and recognise red flags.
Digital Trust World
As we approach the festive season, traditionally a period where fraud cases peak, JT's Head of Fraud Protection Services will join an expert panel from across the digital ecosystem at this year's Digital Trust World 2022 to discuss the trends, technologies and challenges being faced as we combat fraud and instil trust in the digital world.

Experts from across the banking and financial services sector, cybersecurity, digital identity, telecoms, payment services and the DCMS will take to the stage to discuss one of the biggest challenges facing our times.

Clare Messenger head of Fraud Protection Services at JT says "We're currently experiencing unprecedented levels of fraud. This has devastating effects on people's lives, which is not just about the obvious financial loss but also the personal trauma that comes from being deceived, bringing about a complete loss of trust in systems that should protect us.. We must do more to protect consumers. People must have trust in online financial services and have confidence that those entrusted with safeguarding their personal information are protecting them from incurring losses."

Digital Trust World took place on the 21st November 2022 in London.